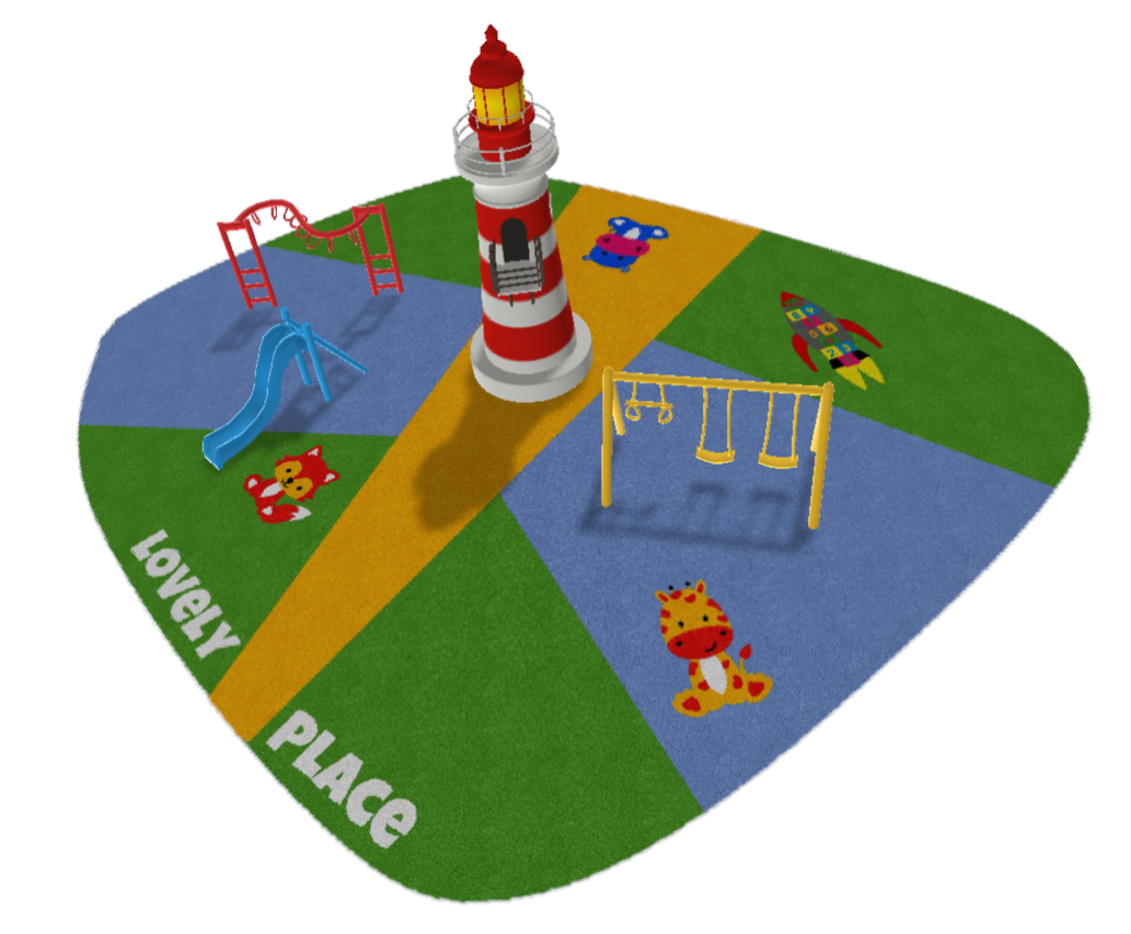 Personalized
Playground Grass
Playgrounds are a microcosm of each neighborhood, a meeting point not only for the kids but also for the parents hoping to get themselves entertained as well.
The right playground flooring is therefore paramount to maintain the magnetic appeal for kids and parents alike. Artificial turf playgrounds are a good choice compared to sand, natural grass or rubber tiles, because it preserves the perfectly groomed garden look for many years while also being soft and wonderful play surface.
Advantages of custom artificial grass compared to other materials
There are many advantages of custom artificial turf over other materials such as paving slabs, concrete or natural grass.
Artificial grass in particular, however, is perfect for your playground.
We are always happy to answer questions about our artificial grass!
Individually personalised synthetic grass offers an infinite range of possibilities: Logos, text, animals, images. There are no limits to the design. Unlike sand or natural grass, patterns can embellish the floor and encourage play. The play components remain permanently intact and are not affected by rain or the like. Come to us with your ideas or let our gallery inspire you

Maintenance: Unlike ordinary lawns, our artificial grass does not require constant maintenance such as watering, fertilising or lawn mowing. It has no holes and is very even, so that even small children can play on it. In addition, unlike paving slabs, there are no joints that pose a risk of tripping or injury

Save time and money: The low maintenance saves time and money. Use the free hours for important

Allergies: Unlike grasses, our artificial grass does not cause reactions to pollen and is therefore ideally suited for allergy sufferers

Weatherproof: Unlike sand or concrete, synthetic turf does not get too hot in summer and dries quickly after rain. The colours remain vibrant and the playing surface is thus preserved and usable.
Possibilities with individualized Grass Designs
Interactivity with customized artificial turf
A small piece of chalk can create the most amazing kids memories in the summer. Being outdoors and creating a hopscotch, a snake and ladder game, a mirror-me game and many many more ideas can change a boring street into the most amazing children's play area. Through our robot-based artificial grass production technology we are able to make fake grass playground surfaces interactive, regardless the size or the creativity.
Furthermore, personalization through a name or logo of e.g. the neighborhood, city, as well as animals, cars, planes, construction tools, all can be implemented in one amazing rubber turf playground.
But it doesn't need to be the perfect artificial grass playground as shown above with streets, cities and cars, it can be much simpler such as a few animal logos that already greatly affect a children's interaction with the whole playground area.
Customizing a play area can be done from a local perspective such as integrating animals known from the forests, colors used in the city or country flag, names from the neighborhood, city or kindergarden. The choices are unlimited for playground turfs.
Play areas can be extended and the children distributed more evenly across the playground through interactive flooring elements such as a hopscotch or a snake & ladder game. Age-group dependent the artificial grass tiles can be either focused on games on sports or on education:
For fun and games with friends or alone, colourful game ideas such as the mirror-me game, target throwing or frog leaf jumping are ideal. With these games, time will fly by for your children!
For sports there is the possibility of long jumps, running tracks and many more. If you are interested in more sport ideas, have a look at our custom synthetic grass for fitness areas as well.
Learning graphics designed for children are suitable for schools, kindergartens or even public playgrounds. For example, they can be used to show sky directions, numbers, letters or times.
Safety for turf playgrounds
At fior we make sure that only tested and approved materials (e.g. according to the toy standard DIN EN 71-3) are applied in our products. This standard deals with limit values of harmful substances in toy materials.
It is particularly important for young children, who explore their environment with all their senses, to comply with these values. This is how we can ensure a safe environment for your children on playgrounds with FiorGrass turf.
In addition, sustainability matters and we make sure that our playground surfacing is not only the leading artificial grass, but also compared to other playground flooring solutions.
Safety is, of course, the most critical part of any play area and shouldn't be neglected here. Rubber or fake turf for playgrounds itself is soft, but it should always be supported by underlying shock pads or foam pads to account for the fall height given specific standards.
The precautions needed here also depend on the height of the play equipment as well as the surface under the artificial turf.
We can support you with both artificial grass as well as shock pads suitable for any artificial playground around the world. Similarly, artificial grass playground installation should be done by professional teams which we can recommend depending on your location. If you have any questions, do not hesitate to contact us.
FAQ – Frequently Asked Questions
Can I put a swing on the artificial grass for playgrounds?

Yes, swings and other play equipment such as climbing frames and co. can be placed on our individual artificial turf. As our turf is very durable and resistant, it is well suited for play areas.

Is the custom artificial turf safe for children?

Yes, our artificial turf is safe for children. Read more about compliance with DIN EN 71-3 and fall heights under Safety for playground turf

How long does artificial turf last on playgrounds?

Our turf is very durable. Many running children or dogs and large loads from playground equipment are no problem for artificial turf. Therefore, the material is ideally suited for your playground. You do not have to replace the turf for many years and thus save a lot of time and money that would be necessary for maintenance with e.g. natural turf.

What kind of subsoil is needed under the artificial turf? Is concrete or stone OK?

A hard subfloor is well suited for the installation of customised artificial turf. However, to meet safety standards, additional shock pads should be used under the turf. This way, children can fall onto the turf without injuring themselves. If necessary, installation on soil or natural grass is also possible. We are happy to recommend partners for installation.

Does the lawn get too hot for toddlers' feet in summer?

Artificial grass can heat up in summer when exposed to sunlight and become warmer than normal grass. However, it does not get as hot as concrete or many other materials.