Next generation gym turf
The most customizable speedtrack yet!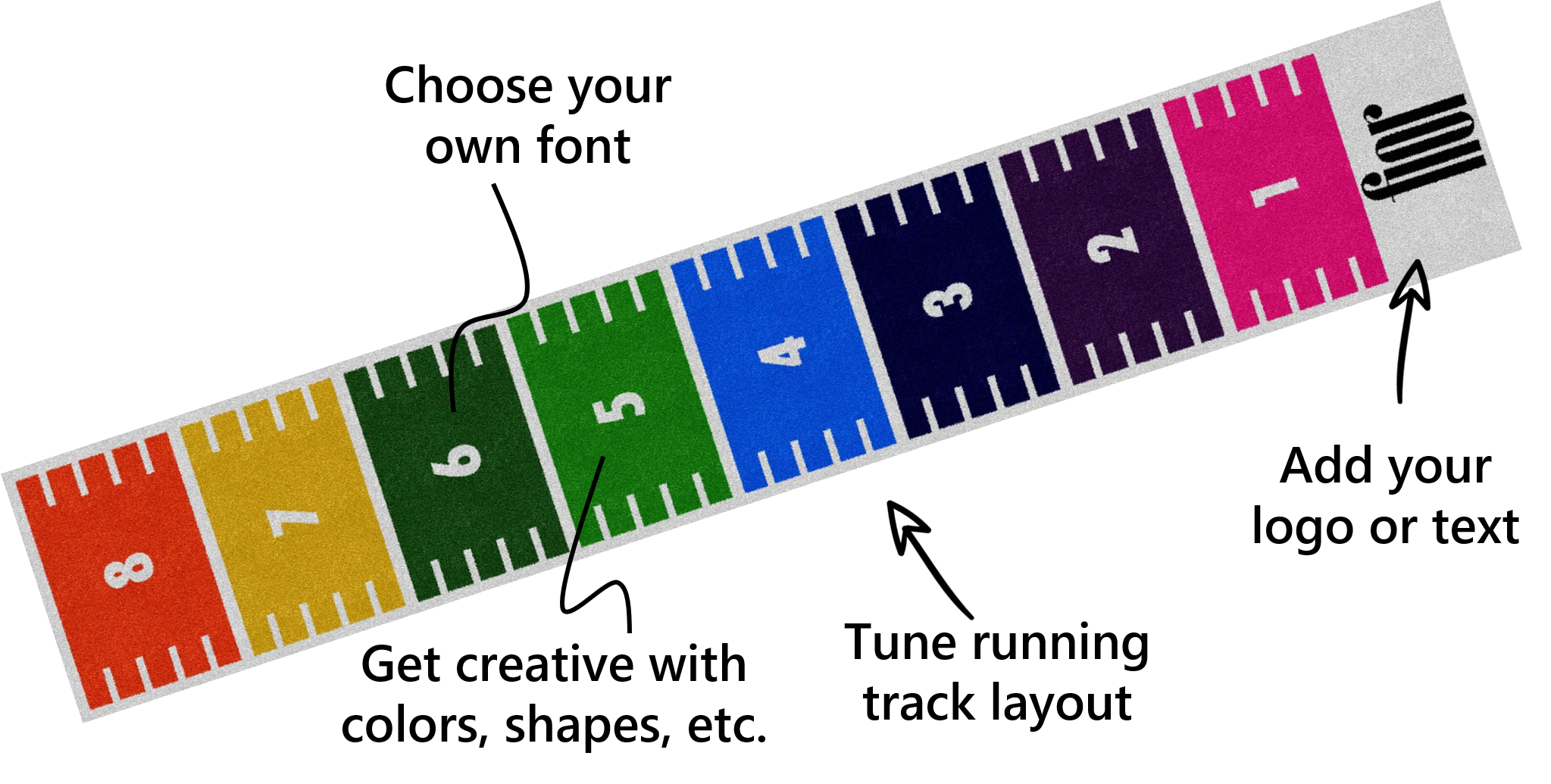 Fitness turf in the gym – a standout flooring solution
The first impression is decisive – which is also true for studios. An attractive and modern ambience has to fulfill the needs for athletes and occasional sports person alike. As important element to achieve a great atmosphere artificial grass or turf has proven to be a perfect flooring solution for indoor sports, since it is most hygenic and can be cleaned easily. Both softness and traction can be specifically designed for each purpose and the natural feel of the turf transmits the motivation to do sports with the body rather than weights. Of course, it is also perfectly suited for outdoors.
Design-freedom to create any type of indoor and outdoor gym flooring turf
While speedtracks represent the most common fitness turf, there are many more options available. These are speed ladders, agility training dots, jump tracks, digital coordination trainings and many more. We provide several synthetic grass design options on our webshop as well as we will happily support you in customizing your gym specifically to your needs.
Customized gym turf speedtracks
The main and most important artificial turf floorings are speedtracks used to drag sleds with weights, strength training, for trainings with resistance bands and for group warm ups. Indoor gym turf is the best flooring option for all activities in which the body weight is applied for training due to the highest grip, variable degrees of softness and being both easy to clean and easy to maintain. In addition, classic rubber flooring does not provide an "outdoor" feeling.
Fitness studios have a clear brand communication throughout the studio and the possibility to personalize artificial gym turf according to the specific style should be a mandatory option. fior has the highest degree of customization options in the market by:
number of colors to choose from
font types for the numbering
Speed track styles
Any imaginable dimension in width and length
our patented solution: installation-free artificial grass (no need for glueing)
our digital solution: web-based configurator to immediately obtain your design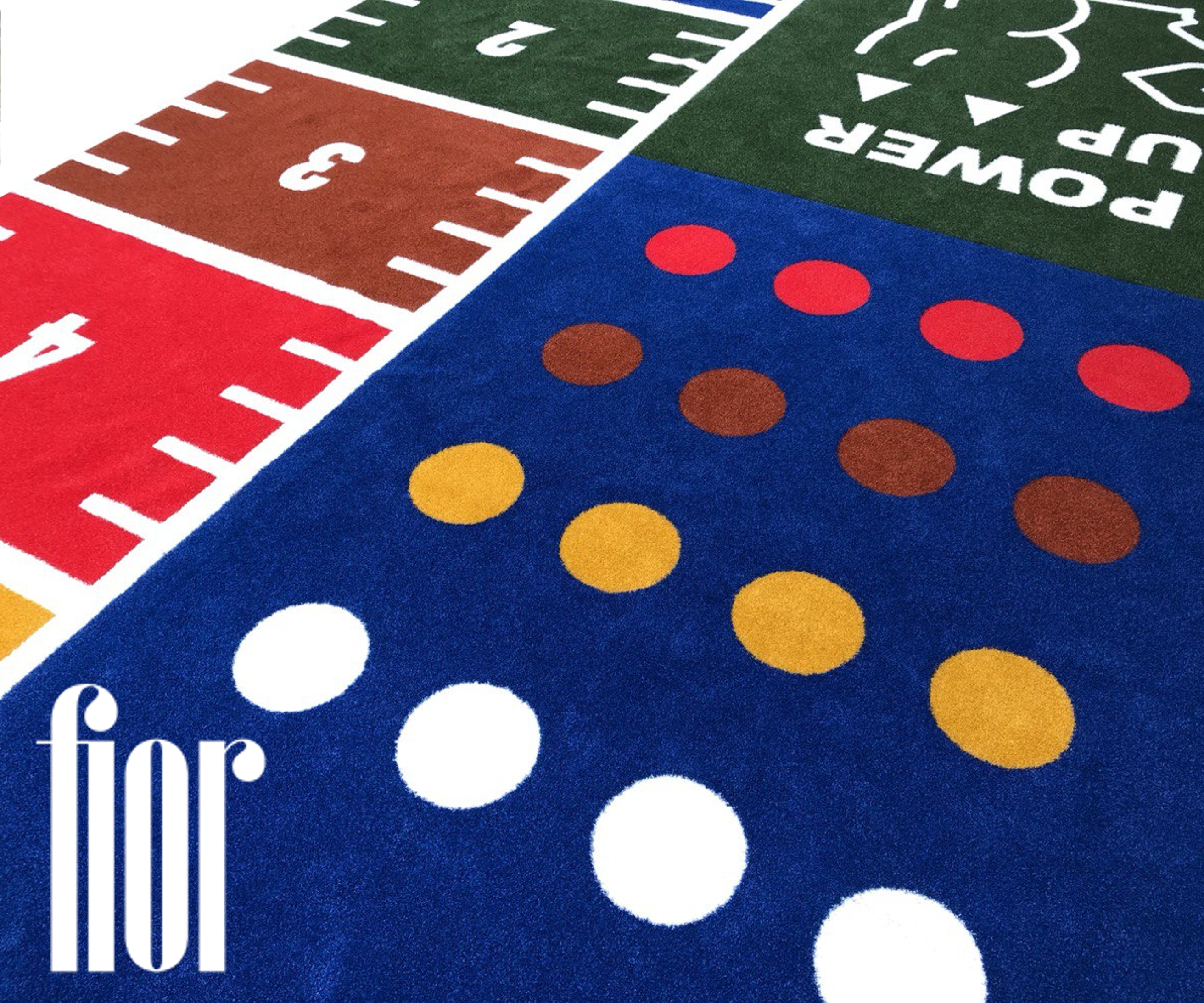 fior gym flooring – choose the best quality
1. Quality
With 2×220 stitches per meter we achieve an areal density equal to 88 000 knots per m², which is the most outstanding sports grass fiber density on the market.
3. Most customizable
With 20 colors to choose from and the most customizable configurator including the font type we are able to create the best fitness turf for your location.
5. UV resistant and perfect for outdoor training
All of our gym turf raw materials are produced in a distance of 250 km according to German and European standards ensuring not only highest UV stability but also playground quality according to DIN EN 71-3.
7. Simulation of complete outdoor fitness parks in 3D
With our unique 3D simulation tool we are able to embed 3D files of fitness devices into a customized artificial gym turf flooring solution according to your requirements. Get more infos here.
2. Our patent: installation free gym turf
Installing artificial grass with double-sided leads to increased costs, destroys the underneath flooring and reduces flexibility to adapt the fitness studio layout. Through our our innovative anti-slip backside these drawbacks are now a thing of the past.
4. Any size suits us perfect
We are not limited by width and length. Whether you require a large fitness carpet in 5 x 6 meters or a speed track in 2 x 40 meters, we are able to realize your gym turf request.
6. Variable degrees from hard to soft
We are able to tune the gym turf properties to match your needs. Whether you require the highest grip and hardness for premier league athletes or softer surfaces for occasional training sessions, we have the experience to realize the right surface for you.
100% made in Germany
We obtain all of our raw materials within a distane of 250 km ensuring German quality and EU standards.
The innovation in fitness flooring
Till now the turf-based fitness carpet had to be glued to the ground, to achieve the required slip resistance and to inhibit the edges to fold up. This meant higher installation costs, scratches and glue residues on the floor. On top, changing the position of the fitness carpet was burdensome, hence no flexibility.
fior has developed a novel turf-based fitness carpet for the SKILLCOURT® product from Movement Concepts GmbH, which is able to create a solid bond between carpet and the floor. Once rolled out the fitness carpet immediately develops a strong adhesion. To replace the fitness carpet it is enough to shake it up and it can be easily re-arranged without any scratches or glue residues. The installation does not require professionals thus saving time and costs. The higher areal weight and an integrated reinforcement additionally make sure that edges do not fold up.
For any home gym this is the perfect solution to safe installation costs and to maintain scratch-free surfaces.